Get to know Don and Dave
DON KNASEL has spent his whole life in and around the farming community of Maplewood, a peaceful hamlet in west central Ohio.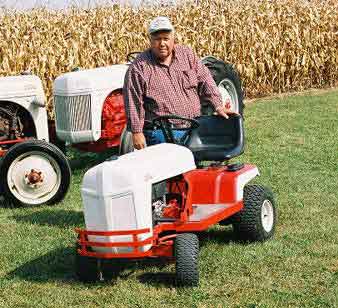 Retired from several business ventures related to Ford Motor Company products, Don is now building the Awesome Henry V-8 Ford Conversion Kit for modification of 9N, 2N and 8N Ford tractors from 4-bangers to V-8 engines using standard Ford flatheads.
In addition, for lawn and garden tractors owners who wish to add the red belly look, Don sells a scaled-down fiberglass dress-up kit as shown above.
The development of the Awesome Henry V-8 Ford Conversion Kit by Ford tractor collector Don Knasel was no surprise to the folks who know Don well. It's just one of the offerings by a man who has spent a good portion of his life soaking up Ford Motor Company history, working on Ford-based projects and collecting Ford cars, trucks and tractors. Always moving on to more Ford-related ventures, Don also offers a fiberglass-based kit that resembles the NSeries Ford tractors produced from the late 1940s to the mid-1950s.
Born on a small farm in west-central Ohio just a few years before America got involved in World War II, Don was an industrious and energetic farm kid with a big curiosity. Early on, he became known around the farming community as one who could carry his share of the load and shoulder up to the work at hand with the best of them. - and one with a keen interest in tales told by the old timers whom he worked with. Of particular interest to Don was the stories about the venerable Detroit, Toledo & Ironton Railroad with its connections to automaker Henry Ford.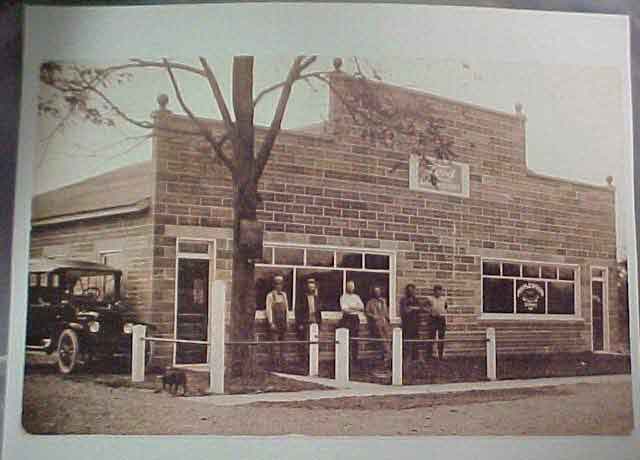 In retrospect, it seems only natural that Don's first car would be a Ford and it was - a sometime temperamental and well-worn 1929 Ford Model A coupe which Don purchased with money he made raising and selling rabbits and swapping bicycles. Don was only 9 years old at the time.
Wrestling with that old Model A to keep it running was quite a chore but it didn't dampen Don's love for the A. In fact, he relished in it and in a few years he was buying used Fords and other cars, sprucing them up in his auto body shop - then reselling them. He also found time to court Wanda Joyce, the best looking gal in nearby Jackson Center, Ohio.
He was also keenly interested in the old Ford Garage, a block construction that once housed the Ford dealership situated alongside the DT&I railroad to vend Ford cars and trucks as well as tractors and related farming equipment in the Maplewood, Ohio community.
By the early 1950s, the old Ford Garage went up for sale. Don bought it and set up shop- plus he managed to convince that good looking gal to be his wife. They started a family.
Don still dreamed of the day when he would start his own full-time business. To make ends meet, he worked the day shift at the Airstream Trailer manufacturing plant in nearby Jackson Center, Ohio - then spent a good portion of his evenings and weekends in the old building which once sheltered Model T's and Fordsons.
It was there that the Knasel boys' first cars were refurbished and kept roadworthy. Don's son Dave, a partner in the Awesome Henry endeavors, loves to tell about the times he remembers the town's loafers huddling around a huge potbellied stove which glowed red during the winter months as they warmed themselves and shared jokes and stories.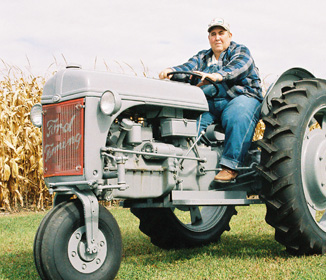 Quite a history buff in his own right, Dave has searched for tidbits of Ford history which may apply to the old Ford structure, i.e. Edsel Ford, the son of Henry Ford and former Vice President of Ford Motor Company was a avid aeronautical enthusiast. To assist early flyers along their ways, white arrows were painted on the roofs of many Ford dealerships. The Maplewood establishment "may have had the arrows but nowadays the old timers have passed on and whether or not the Ford store participated is lost in time," Dave says.
When you see see Don Knasel at one of the tractor shows, Dave won't be far away. He has been at Don's side throughout the development of the Awesome Henry V-8 Ford Conversion Kit. Father Don says some of his favorite memories are linked to son Dave. Years ago when Don was in law enforcement, Dave was on the Lake Patrol of the Department of Natural Resources. On one occasion the pair joined forces to retrieve a safe from a creek where thieves had tossed it.
Currently Dave is in charge of the 911 system in Western Ohio through his employer Sprint. With 29 years under his belt, he is a busy man - as a telephone man and a member of The Paint Horse Club of America. Accompanied by his children, he breeds, raises and shows on a regular basis. Now a grandfather, Dave hopes to pass along his interest in farming.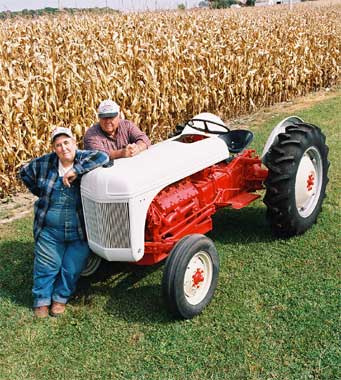 Through the years, Don always found time for community service work. During the 1960s, he became very active as a deputy sheriff - in fact, so involved he decided to sell the Ford Garage to pursue the sheriff's position full time - and teach crime fighting skills at a local college. Simultaneously, as his political and teaching careers competed for time slots in his busy schedule, Don's children were growing up and starting their own ways.
Don left civil service after a few years and got back into the Ford business when he purchased and managed the body shop division of the local Shelby Co. Ford dealership. He retired in May of 2001 . Since then, it has been one Ford restoration after another plus the development of the V-8 conversions and garden tractor kits - all which reflect Don's interest in Ford products which reaches back to those early days in the farming community around Maplewood where Don was born and still lives.
A few years before he retired, he built a new home and a giant garage to house his sizeable Ford collection. Currently, the showroom is filled with 12 vehicles that have been authentically restored including a couple of Ford 8Ns which have been converted from 4-bangers to eights. Interestingly, Don's farm backs up to the old Henry Ford Railroad mentioned earlier.
More details on our Awesome Henry V-8 Ford Tractor Conversion Kit and the Lawn Tractor Fiberglass Dress-Up Kit are available.
Call Awesome Henry at 937-497-9447 or email: dave@awesomehenry.com